Things we wrote before leaving…
In the old days American missionaries often packed their belongings in a coffin. Many would not return as a result of disease or martyrdom. The coffin demonstrated the wholehearted way that they put Christ first while facing their own likely death.
We are not facing this level of sacrifice, but when we leave for France we are leaving behind our home and our family, and most of our possessions. Our three children are all students and they will not have the finances to visit us often. We are leaving behind many wonderful friends, a large, comfortable home, a supportive church and Christian fellowship. The San Diegan climate is second to none and although people complain about the cost of living, it is easy compared to Northern Europe.
We will not be packing a coffin, but France is considered to be the graveyard of missionaries. Typically, the French are not quick to receive the Gospel. Life is expensive, the climate in northern France is rather dreary and discouragement is normal. Although we have lived in California since 1999, we understand the culture and we are prepared for the climate. We also have close relatives over the channel in England, which will be a place to go for rest and encouragement. Nonetheless, a French friend who had to return to France recently, as her visa ran out, thinks that we are crazy. She wonders why we would choose to leave sunny California!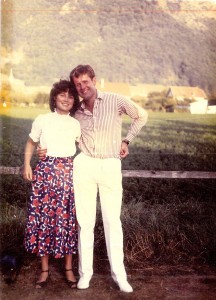 We are British and we are familiar with France: a neighboring European country. Despite the challenges of relocating, we are confident that we will adapt to living there successfully. I worked there for a summer when I was a student and both of us visited France for vacations when we lived in England.
We are not crazy adventurers. Jesus has lead us to the knowledge that we must go to France. I dropped to my knees on the floor of the Louvre museum in Paris, 8 years ago. I prayed for France, and shortly after this both of us became aware that we should pray about moving to France, to help share the good news about Jesus.
We trusted God with the timing……
Out of nowhere , five years later, Jesus provided Sian with a French teaching job, an opportunity to serve in Paris, and a French student who came and lived with our family. God's timing was amazing! France suddenly featured prominently in our lives! Our appreciation of France, the French language and our relationship with a French pastor and his family developed quickly. Jesus grew a prayer into a real concern for France, and he gave us opportunity to be connected closely to the French language, a French church and a French family.
All of our children are away at college. The time is right. The need in France for Christian leaders is great! Please help us go!
A.W Milne was called to evangelize a tribe of headhunters in the New Hebrides. Amazingly, he survived for 35 years amongst them. He never returned to the United States. When he died, they showed their great appreciation for him, writing the following words on his tombstone:
"When he came there was no light, and when he returned there was no darkness."
The French are not headhunters, but many are ignorant of the Gospel! We want to bring light and life to some who have not yet heard. We also want to bring encouragement to French Christians who are working hard in difficult circumstances.
Please help us bring a ray (rayon) of hope and life to France. Please pray that we can make a difference.
Click here to find out more about our calling