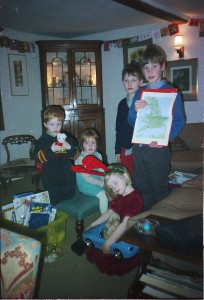 Martyn, Sian, Tom, James and Alice Whittaker lived in the south of England. They enjoyed seeing their grandparents and cousins quite frequently and they had lots of friends. They went to a good church and they were involved in teaching and going to Sunday school. Martyn's company was taken over by a bigger American company and Martyn was invited to work in the main office in California. They prayed about moving so far away and felt that this is what God wanted for their family. In 1999, the Whittaker family moved to California. Alice was four years old and her brothers were six and eight.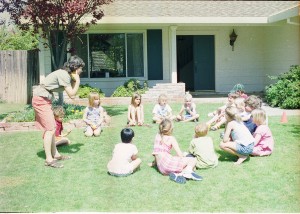 To start with their life in California seemed a bit like a long sunny vacation. In Davis, in Northern California, it was very hot when they arrived and they enjoyed swimming in the local swimming pool. In England the weather is much colder so this was a huge difference. We liked the sunshine, except for when it became very hot, when it was miserable. Sian decided to home school the children. This was also very different as very few people homeschooled their children in England. Many people cycled in Davis. To start with Sian did not have a car and she cycled everywhere with the children. Alice went on a tandem ( a bicycle with two seats) with her mom. This was a fun way to get around, until Alice broke her leg and she could not sit on the bike. One of the reasons why Sian cycled with the children was because driving was hard, because in the U.S you drive on the right and in the United Kingdom, you drive on the left.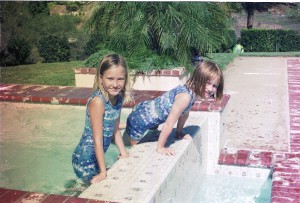 After three years the Whittaker family moved to San Diego in Southern California as Martyn got a different job. He found the way that American business was organized was very different from British business. Eventually he decided to set up his own small business. The family enjoyed San Diego as we had a swimming pool and we could go to the beach and enjoy good weather all year long! The children went to regular schools and once they got to high school they enjoyed all of the sports that they could do there. There were many more school sports in California than in England. Cycling was not easy here as there were hills and few bike lanes. Sian had to drive and the children had to be taken to places by car.
The Whittaker family made lots of friends at church. There were many more Christians in America than there were in England, but they were concerned that many people in California did not know about Jesus. In England children usually celebrate Christmas at school but in public schools in America they did not. Halloween was celebrated more than Christmas! To help other families learn about Jesus, the Whittaker family had a Christmas party each year when all the children who came wore Nativity costumes, and they sang Christmas carols and told the Christmas story. Nativity plays were an English tradition that the Whittakers continued in their home.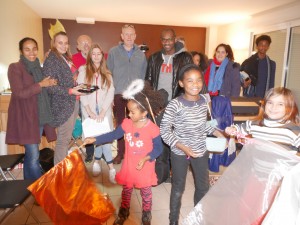 Once all of the Whittaker children had grown up and were at college, Martyn and Sian decided to move to France. For many years they had felt called to go there to help French Christians and to tell other people about Jesus. Only about 2 % of French people are Christians which is very sad. Martyn and Sian left California in 2014, leaving their children at colleges in America. They left many of their belongings in their garage and they rented out their house. They sent some boxes on a ship but they did not take any furniture with them. When they first arrived in France they lived in a friend's attic bedroom. A few months after their arrival in France, Martyn became very ill and was in hospital. You can imagine how hard it is being in hospital for two months, struggling to understand the French language!. This was all very difficult, but Martyn is now well, and we live in a house that God has provided. We are teaching English and we are talking to people about Jesus. Many of our Christian friends in California are helping us financially, and we are thankful that Jesus is using Christians in America to help develop the church in France!
We love the French food, the San Diego weather and British history and traditions. But friends and family are more important than places and culture. Leaving loved ones behind is very difficult, but following Jesus is even more important than being with friends and family. Despite the hard times, Jesus leads us, he protects us and our family, and he brings people to us so that they can get to know him. If you move to different places, make sure that Jesus leads you, and stay close to him, and your life will be such a blessing!